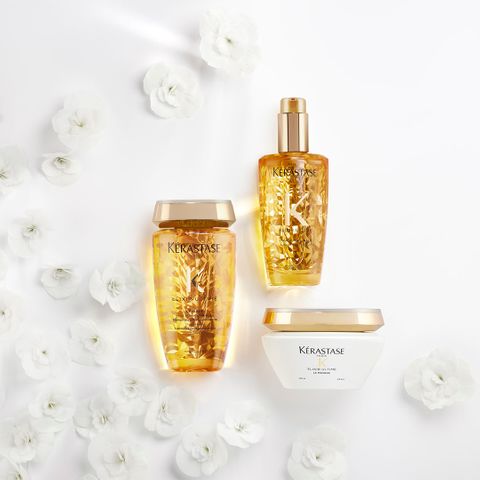 Everyone wants exceptional hair, but not everyone understands the importance of using exceptional haircare products. We believe that what you use at home is just as important as what we use in the salon.
Introducing Kérastase, the prescriptive luxury haircare brand, created with intention to address all the different variables that can keep you from achieving the hair of your dreams. Kérastase offers something for every different hair type: curly hair, straight hair, colored hair, blondes, you name it. A highly prescriptive haircare line, our experts at PRIVI can create a custom offering to perfectly suit your needs.
Elixir Ultime L'Huile Original Hair Oil
Kérastase's #1 best selling hair oil - crafted with a blend of argan oil, camellia oil & marula oil and suitable for all hair types. This hydrating oil serum nourishes, adds strength and shine, and decreases frizz. Lightweight and subtly fragranced, this hair oil can be used in a variety of ways: Multi-use hair oil may be applied the following ways: before shampooing to remove impurities...
more